1. Are the Webinars Recorded?
Yes! All webinars are recorded and placed in the interface within 24 hours so you can view on your own time.
2. Where can I find the Recorded Event with the 5 students?
These come with the Elite package and can be found under the Inbox ELITE tab
(#3 Live Recordings of the Event)
3. I qualified for the Early Bird Bonuses, where are they?
If you qualified you will see a link on the homepage of Inbox Blueprint under the Welcome Video from Anik
4. Where do I signup for the Bootcamp Webinars?
Bootcamp Webinars come with the ELITE Package. If you purchased
the Elite package please look in the left hand area of your members area for the
INBOX ELITE tab. Click there and then scroll down to #2 and Register for the Webinars there.
5. What all is included with the Elite Package?
With the Elite package you will receive the following:
1. 6 week coaching bootcamp walking them through how to setup inbox a to z
2. 4 week coaching bootcamp on the #1 traffic source out there (solo ads)
3. A download of multiple auto responder templates from Anik that we know
had very high open rates and click through rates!
6. How do we REASONABLY/QUICKLY find forums that allow signature lines?
In some niches, forum owners are possessive of advertising revenue, which is going to make it tougher to find forums that allow links in signature files. In others (like Internet Marketing) you'll find the opposite. But here are some tips that will help you wade through available forums a bit quicker.
1. Use Google search to find and skim through the "rules pages." Google's constant technology updates can make this somewhat hit or miss, but it can still save you a lot of time. Try searching your niche + forum rules. You may need to drill down past the first page of results, but you'll often see enough information to help you make an initial cut. See attached rules screenshots.
2. Use Google search to find forum signature policies. Again, how well this works depends on how Google happens to be tweaking its search technology. But it can still save you time. See attached signature screenshots.
7. Where do I find the Secret Drawer Anik spoke of?
You can find that under the Resources Section
8. Where do I find the Optin Pages Anik spoke of?
You can find those under the Resources section
9. We downloaded the opt-in page from the helpful resources and have changed it to our liking however we can't figure out how to get it to work with our getresponse autoresponder. How can I fix this?
Replace the existing open "Form" tag with your current aweber/icontact/getresponse form tag and then update the existing "id" feild with their new aweber/icontact "id" for the email input.
10. Downloads are all win 32 application and I haved window 7 win 64 application
Use either of these video players, they are friendly to both Mac/Apple and PC's:
http://www.videolan.org/vlc/index.html
http://player.gomlab.com/eng/download/
11. How to Add Get Response Form Code inside Optin Page?
There are 2 options/way to add GR code..
#1 Javascript | #2 HTML Code
Its preferable to use #2 HTML CODE option and even there you dont have to use the whole HTML code…just copy this much


from the HTML code and paste it right before the


in our given optin pages HTML…
Example:

12. How do I create my TYP with GetResponse?
Answer: In GetResponse there are a few options shown below while creating a new web form. You will see this on the 2nd page to set up the redirect page
13. How do I edit an Optin Page?
Answer: Please follow the below video instructions
14. How to add autoresponder code to optin page?
Answer: Adding Autoresponder Code to Optin with Aweber (Please follow the below video instructions)
Using Get Response
1 Signup
2 Webform and CPA Link
3 Text and Spamchecker
4 HTML
First Campaign
5 Stats
15. How to Upload Your Free Offer PDF File via FTP to your website?
Answer: Please follow the below video instructions
16. How to do/Add a "Flash/Pop-up/Exitscript Page?
Please place the below script into your HTML page far end below and just right above tag…and here you can change/edit your exit message and page url to whatever you want…
Example:

Two things to take care of here:
#1 This Message: "Your order is not COMPLETE, DO NOT LEAVE! \n\n Click Cancel or Stay on page right Now!" –
You Can't use "apostrophe" ' and (") quotation mark in this mseg, else it"ll break down…
#2 var exitsplashpage = 'http://inboxblueprint.com/exitscript/';
Replace this with your thanks/download page URL
Download the JavaScript file from here… (unzip and copy the exitSplash.js and place it where your HTML file is)
NOTE: This File needs to be placed in the same folder where the HTML file is…not out of that folder or inside any…right where the HTML file is…
17. How to ADD Transition page to your Optin/Landing Page?
#1 Please Download the HTML zip file from this link
#2 Keep the "thankyou.html" and "wait.gif" in the same folder
#3 Open "thankyou.html" in any HTML editor software…(Kompozer/Dreamweaver)
#4 See the below attached image on how to change the redirection link…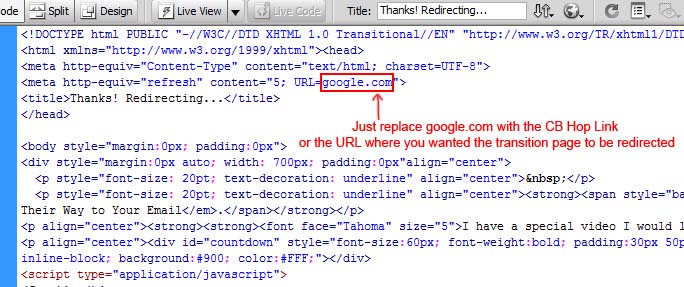 #5 After updating the redirection URL, please save the changes and upload both the files"thankyou.html" and "wait.gif" to your FTP Server..
#6 You can then set this thankyou.html as your optin page/landing page redirectiong under Getresponse/Aweber etc…